Adjust. Adapt. Repeat. This has been the mantra of many corporate staffing models that scale talent to meet industry innovations and technological advancements. Why should law firms be any different? It's a question that merits examination and highlights the findings of Peer Monitor's 2015 Staffing Ratio Survey.
Historically pegged as resistant to change, many law firms are increasingly scaling their support staff headcount to ensure sustainability and build flexibility. Now more than ever the concept that "less is more" rings true for many firms as innovative leaders continue to modify their staffing structures.
According to Kit Murphy, COO of Columbus-based Bricker & Eckler:
Having this kind of trend analysis, with the data to back it up, is really helpful to those of us in leadership positions faced with the difficult task of creating a compelling story for change inside institutions so historically resistant to change. As an industry, we are evolving in our ability to see changes like implementation of teamwork and cross-utilization as positive, forward facing, efficiency endeavors rather than the recession-era reactionary, 'cut at all costs' approach. This is progress, albeit slow.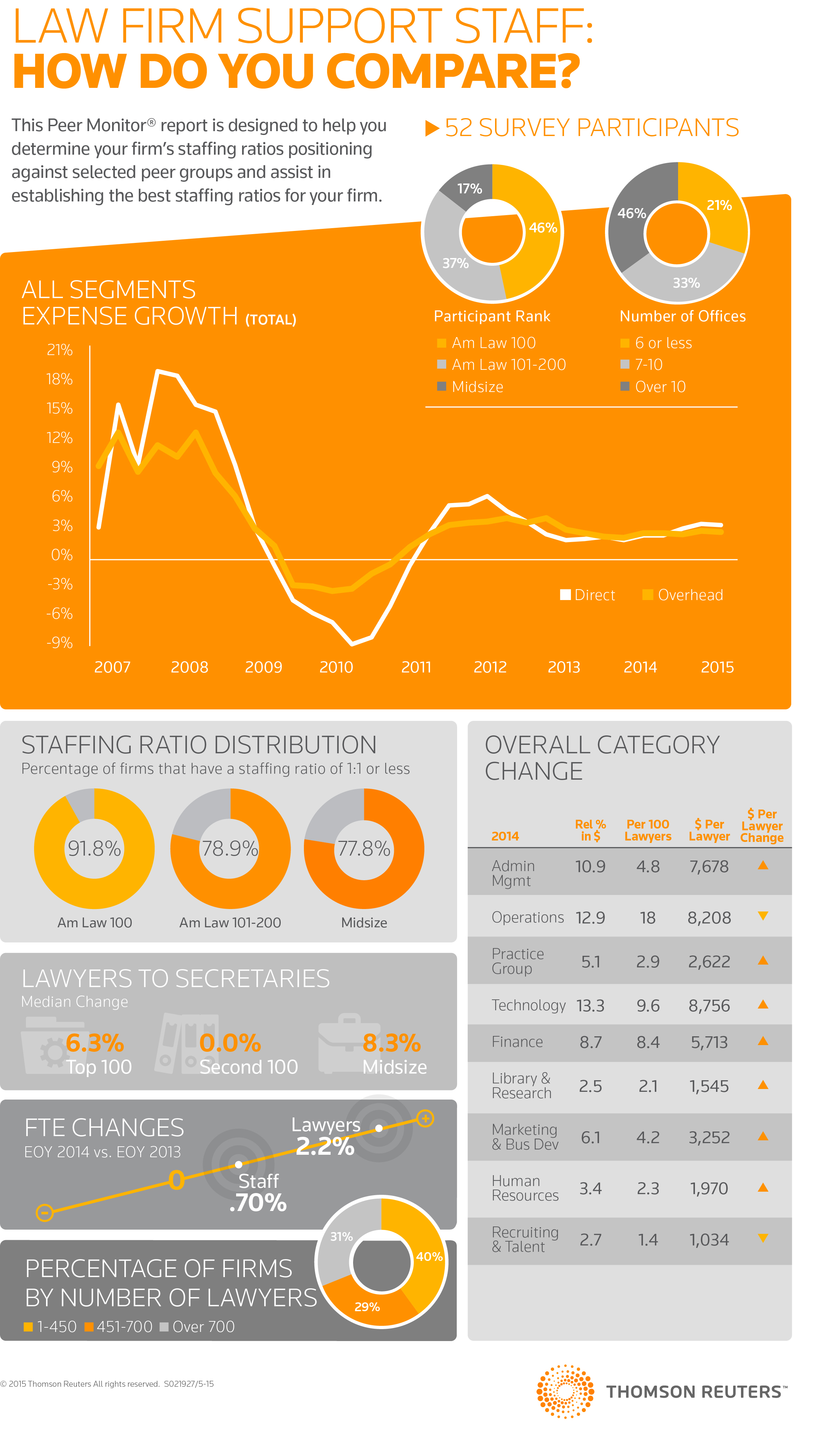 What's driving these staffing ratios and how does your firm compare? Consider the following four scalability concepts:
Scaling Across
Generational talent shifts are impelling new approaches to teamwork and staffing structures. Shared resources promote efficiencies and align with next gen lawyers' preferences for team-based goals and interaction. Now more than ever law firms are considering organizational models such as administrative pods, secretarial pools and matrix staffing. By scaling staffing resources across the organization, firms promote cohesiveness, increase efficiencies and encourage cooperation.
Clients also continue to drive the need to scale across talent structures. Law firms with traditionally siloed staffing functions are becoming acutely aware of the need to utilize cross-functional resources. One example is in library and research, where traditional research roles have expanded to include market- and industry-driven data functions.
Scaling Up
Well-functioning teams require strong leadership. The need for astute guidance is mirrored in increased spend per lawyer in practice group and administrative management staff. Quality, not quantity, is key in staffing these leadership positions and many firms continue to recruit outside of the legal industry to fill these essential roles.
The voice of the client is also reflected in higher-level financial and pricing director staffing. High-performing law firms continue to move the needle on law firm profitability and understand the resources required to do so. Creating the right balance of strategic-level thinking and analyst-level support is essential to navigating pricing and profitability quagmires.
Scaling Down
Gone are the days of Dictaphones, although a few undoubtedly languish in senior partners' offices. These days I hear fewer and fewer stories of secretaries typing out partners' emails. It should come as no surprise that next gen lawyers rely less on secretarial staff and are happily drafting many of their own documents. Many firms have already reduced secretarial and word processing ratios as low as possible, but the retirement of senior partners and their reliance on support staff still presents opportunities to scale down.
Scaling down also continues in the area of recruiting and talent staffing as many firms remain steadfast in leveraging internal recruiting systems and external technology platforms. Hogan Lovells and Baker & McKenzie have even gone as far as to introduce "social mobility software" to their applicant tracking systems which enables them to take applicants' economic background into account and assess their academic performance against the overall performance of their school.
Scaling Out
Undoubtedly, the ongoing outsourcing of essential staffing functions continues to impact law firm staffing ratios. For many firms the first logical step was to outsource traditional mailroom and paper-oriented roles, but the evolution continues to other staff functions as well. Firms are increasingly evaluating new areas for outsourced IT staffing, including cloud-based alternatives and external support functions.
Savvy law firm leaders know they need multiple tools at their disposal to effect efficient talent strategy initiatives. Reducing law firm staffing ratios is more complex than simply reducing headcount. Moving the needle requires discipline in adapting and adjusting talent structures. Using talent strategy to scale across, up, down or out creates a competitive advantage for firms looking to break the mold in staffing ratios.
---
If you are interested in purchasing Peer Monitor's 2015 Staffing Ratio Survey, please contact Kim Desmarais at kim.desmarais@thomsonreuters.com.